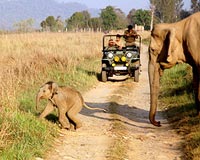 Location:
Nainital District, Uttarakhand
Climate:
Temperate Climate
Best Time to Visit:
November to June
Main Attractions:
Bengal Tigers, Leopards, Elephants, variety of birds and plants
Corbett is the oldest national park of India. Situated in the Nainital District of Uttarakhand, it is one of the greatest crowd pullers from travel and tourism point of view. Named after a hunter and naturalist, Jim Corbett, the park is named as Jim Corbett National Park. It was established in 1936 as Hailey National Park, with the basic purpose to protect and preserve the fast becoming endangered Bengal Tiger. This was an Indian wildlife protection initiative under the Project Tiger.
Being located at the foothills of Central Himalayas, both Himalayan and Peninsular flora and fauna is found here. More than 400 species of plants and diverse wildlife is what the national park is famous for. The main vegetation includes Sal, Khair, Sissoo, Ber, Kuthber, Bel, Chbilla, Dhak, Semal, Khingan, Kharpat, Rohini, Bakli, Pula and Bamboo. Besides, Corbet is also known as bird watcher's paradise as it provides shelter to around 585 resident and migratory birds, mainly serpent eagles, blossom headed parakeet and the red jungle fowl.
The main mammals residing in the park comprise of Tiger, Leopard, Elephant, Cheetal, Sambar, Hog Deer, Barking Deer, Wildboar, Langoor and Rhesus Monkey. Though the population of Bengal Tigers is notable, they are not easily sited because of the thick cover of the forest. Also, the park is a popular ecotourism destination. Various training programs are conducted here for imparting knowledge about wildlife to the interested people.
The training courses cover subjects like natural history, visitor management, and park interpretation. Moreover, to ensure the park remains safe due to the high number of tourists, Indian Government organized workshops on ecotourism in Corbett National Park and the Garhwal region. Corbett National Park remains open for visitors from 15th November to 15th June and is closed during the monsoon months. The entry is allowed as per the rules and regulation of the park authorities, keeping the aim of the reserve in mind.